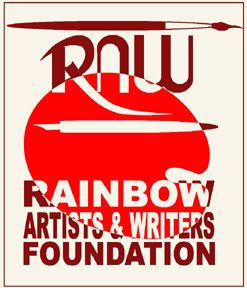 In collaboration with
(R A W Foundation) kolkata, Holds an Exhibition of paintings
'CONSTRUCTION OF IMAGES'
focusing some new talented painters and sculptures
You are cordially invited
Birla Academy of Art & Culture
108-109 Southern Avenue, Kolkata - 700029
From 20th may to 25th May 2008
Mr. Sunil Gangopadhaya
(Sahitya Academy Chief, India,Writer)
has consented to inaugurate and be a part of this occasion.
~~~
A host of famous personalities/ celebrities and dignitaries will grace this occasion.
Mr. Bijon Chowdhury (Painter), Mr. Hari Mohan Bagli (Teacher in charge, Indian College of Arts & Draftsmanship), Dr. Anjali Sengupta ( Vice president , Academy of Fine Arts), Mr. Jahar Dasgupta (Vice President , Academy of Fine Arts), Mr. Prokash Karmakar (Painter), Mr. Subrata Chowdhury ( Artist), Mr. Anup Roy (Artist) , Mr. Debashish Deb (Artist), Dr. L.N.Pachori ( Ex. Professor Rabindra Bharati University), Mr. Bimal Kar ( Principal, Govt. Art College, Tripura), Mr. Shasthipada Chattopadhya (Writer), Dr. Anish Deb.( Writer & Professor of Physics), Mr. Siddharta Singh ( Writer), Mr. Utpal Das (Propriter -Indo Friends Agency), Mr. K. L. Tamta (I.G . North Bengal Police) K.L. Maity (DSP,Kolkata Police), Mr. Nabendu Chatterjee (Film Director), Mr. Adish Dhar (IRS), Mr. Rajeev Ghosh ( Technical Head Lafarge), Mrs. Gitanjali Satpathy (N.G.O.), Mr. Jagabandhu Kundu (Editor –Sahitya Setu), Mr. Nandadulal Roy choudhury (Writer), Mr. Arunava Dutta ( Secretary , Midnapore Art College), Mr. Sushanta Ghosh (Principal, Midnapore Art College), and many more guests will join this occasion.)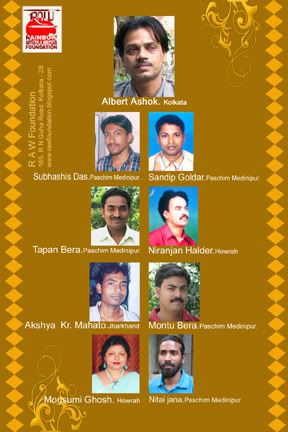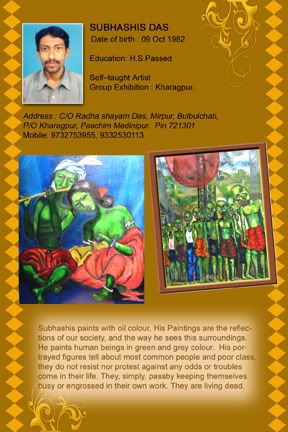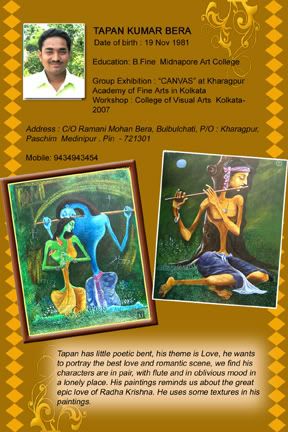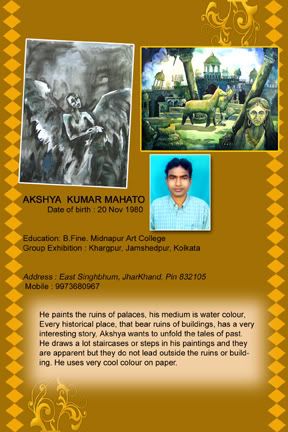 *********~~~~~~~~~
I am here to present the works of my students, who cherish a dream to become an artist, leaving all other attractive profession and occupation and ease of life behind, before all respected dignitaries and commons. Some of my students live far away from my house, they board a train early in the morning and reach my house spending about 5 hours, and returning home at night spending again 5 hours from the evening after a 5 hour long class is over . They could have enjoyed life by making merry and involving with other sorts of activities, But they did not opt for, they were regular in their aim. They are doing it diligently and with great perseverance.
I am overwhelmed by their devotion of Art. So, I decided to show their works of Art and 'construction of their imaginary images' to the people of our society. That is why I have invited all the respected people from different professions and occupation to be present here and share this concern that 'we shall back all efforts for a good cause'. Through this process I want to honour and show my respect also to those people, who strives hard for a better life, art and culture, may be we do not know them being stuck in our daily routine and duties.
I have exhibited here some of my colour drawings on canvases to share my association with my students, In my life, I had less opportunities to construct my images and expose what I longed / dreamed, what I thought, and how I have been all my life. I wished I could have made it big! But I failed. This failure corrodes my lungs every day…I am optimistic that my students would carry my thought and succeed in life.
We (most people in our country) are not affluent in our life, even most talent have no economical support to give their ideas, arts a vent or an outlet. So, I bear this sorrow with my countrymen. and salute those who top up all barriers and succeed in the final hurdle race of life. Thanks to everyone involved in this Exhibition.
Albert Ashok

We on behalf of 'Rainbow Artists and writers foundation' express our gratefulness to the people who has extended their help for this exhibition. Thank you